Man, 30, arrested over parcel containing two bottles of CBD oil from Denmark.
Customs officers have made Hong Kong's first arrest over cannabidiol (CBD) products after taking a clubhouse worker into custody when he showed up to collect a parcel from Denmark containing two bottles of the recently banned oil.

Officers found two more used bottles of the same CBD skin oil and four grams of cannabis buds from the man's locker at the clubhouse of a residence in Yau Ma Tei on Wednesday. Combined with the banned CBD product, the haul was worth about HK$5,000 (US$637).
A cannabis grinder was found in a search of the man's home in Tseung Kwan O.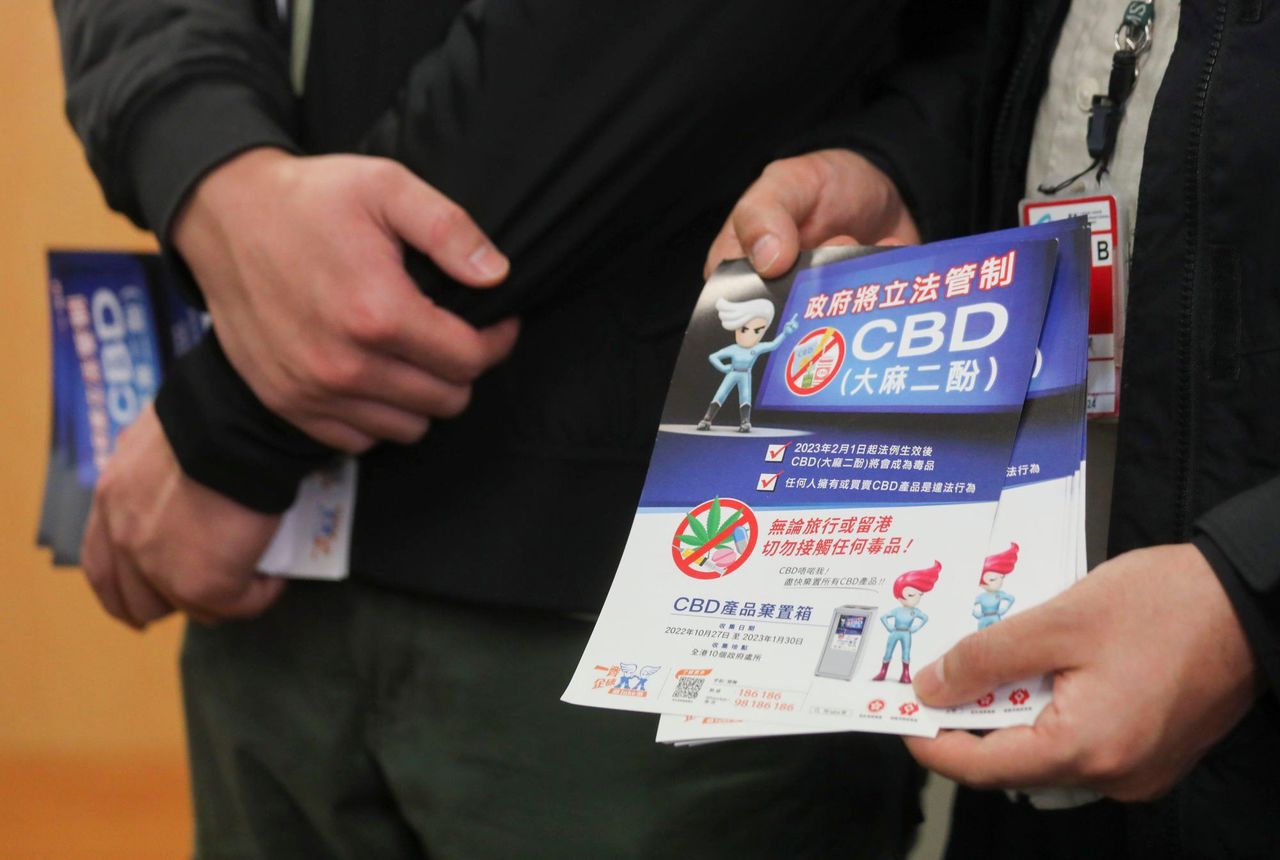 A flyer presented by customs officers in January to explain the new ban on CBD products.
The case was the first such arrest and seizure since CBD was added to the Dangerous Drug Ordinance, according to Isaac Tsang Yau-chuen, a senior investigator from customs' airport investigation division.
The parcel, the content of which was declared to customs as body oil, was found to have contained the contraband when officers examined it with an ion scanner at the Hong Kong International Airport on Monday. The man was arrested on Wednesday when he showed up at the clubhouse to collect the goods.
Controversial for their link to cannabis, CBD products were legal until Hong Kong amended its laws in 2022 to set in motion a ban this year, despite protests from some quarters that outlawing the goods would be an overreaction. The products can range from oil and softgel capsules to beverages and candies, which users have said relieve stress and pain while also improving sleep.
As a chemical compound derived from the cannabis plant, CBD has been a subject of debate among scientists and law enforcement experts in several countries.
It is known for its potential medicinal values and being non-psychoactive and not addictive. The World Health Organization said CBD in its pure state did not appear to have abuse potential or cause harm. But another chemical compound derived from cannabis, tetrahydrocannabinol (THC), is known to be mind-altering and addictive, and has long been listed as a narcotic in many places, including Hong Kong.
Chemists agreed it was difficult to extract CBD itself from the cannabis plant, and CBD products were likely to contain some THC.
From February 1, anyone caught possessing or consuming CBD products faces up to seven years jail and a maximum fine of HK$1 million. Those who trade-in these products or make them face up to life in jail and a maximum fine of HK$5 million.