Hong Kong opposition activist Joshua Wong Chi-fung has been granted temporary release by a court after being charged with taking part in an unauthorised assembly and violating the government's mask ban during last year's civil unrest.

Wong, 23, appeared in Eastern Court on Wednesday afternoon alongside 74-year-old veteran activist Koo Sze-yiu – also released – over their alleged participation in the banned rally in Causeway Bay on October 5, the day the anti-mask law took effect.

The pair were each charged with knowingly taking part in an unauthorised assembly, which is punishable by five years in prison.

Wong was further charged with wearing a facial covering at an unauthorised assembly, which carries a maximum sentence of one year behind bars and a HK$25,000 (US$3,225) fine.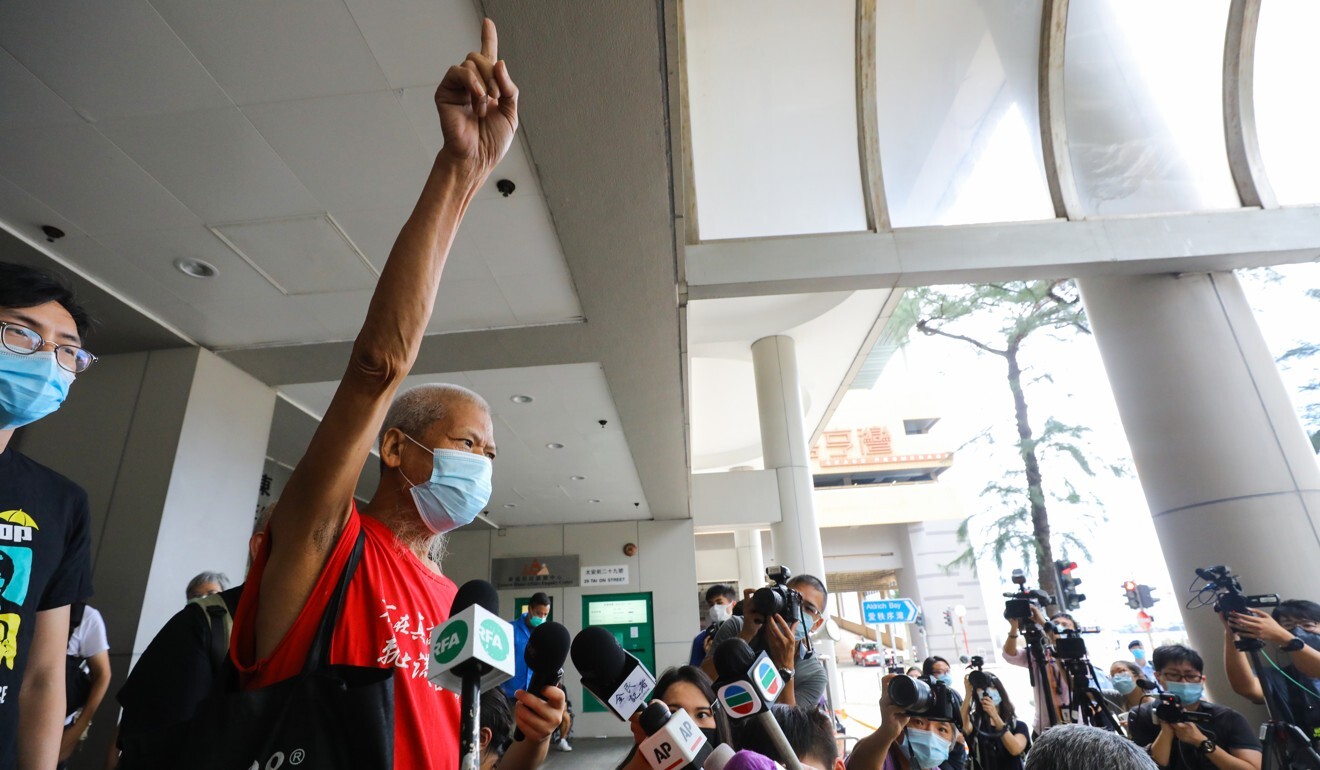 Veteran activist Koo Sze-yiu leaves Eastern Court after being granted bail on Wednesday.

When asked whether he understood the charge against him, Koo said: "Rallies and assemblies need no permission from the Chinese Communist Party."

Prosecutors said they were ready to hear both men's pleas, but defence lawyers asked for an adjournment until the city's top court had ruled on the legality of the mask ban.

Principal Magistrate Bina Chainrai granted the two bail of HK$1,000 each, and imposed a travel ban on Wong at the prosecutors' request. The cases against the duo will be heard again on December 18.

Wong's most recent arrest, which came last Thursday, has drawn criticism from the European Union, which described the police operation as "the latest in a troubling series of arrests of pro-democracy activists since the summer", and questioned China's will to uphold its international commitments.

City leader Carrie Lam Cheng Yuet-ngor invoked a colonial-era emergency law last year to prohibit facial coverings at demonstrations in a bid to quell months of anti-government protests, sparked by the now-withdrawn extradition bill.

The new law was met with a legal challenge by 24 opposition lawmakers.

In April, the Court of Appeal overturned a lower-court ruling in the lawmaker's favour, declaring the Emergency Regulations Ordinance constitutional, but stipulating that the government was not entitled to ban the wearing of masks at lawful demonstrations, and that police had no authority to physically remove them.

Both the opposition camp and the justice department have lodged an appeal. The Court of Final Appeal will hear the applications on November 24 and 25.