New violence in Colombia's decades-long conflict has impeded de-mining efforts, putting rural populations at risk.
Berna Nastacuas Pai held a dangerous job as a member of a patrol that guards his Indigenous Awa community in southern Colombia. His duty, to inspect the El Gran Sabalo Reservation for security breaches, exposed him to armed rebels and criminal gangs engaged in battles over drug routes.

Recently, he had reduced his rounds as the fighting escalated. But it was on a walk home after work in late January that the 30-year-old stepped on an improvised landmine buried beneath the forest floor. He died from his injuries as his wife and her 10-year-old brother carried him to a hospital.

Makeshift mines, like the one that killed Nastacuas, are not new to Colombia, where armed groups have littered rural areas with thousands of explosive devices over nearly six decades of conflict.
But in recent years, the conflict has entered a new phase as armed groups proliferate and expand — and with this phase have come reports that even more landmines are being sown into Colombia's soil, putting civilian populations increasingly at risk.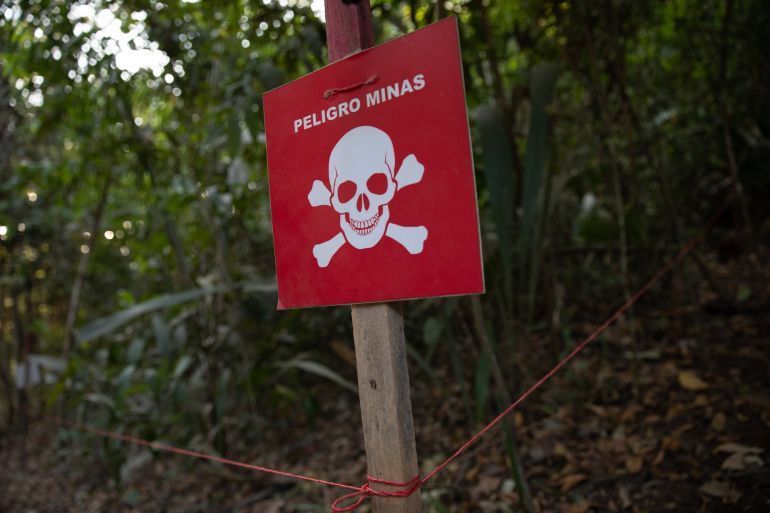 Warning signs and red string outline an area where landmine removal is underway in Colombia's Meta province on February 11
Colombia had hoped to destroy all mines by December 2025, and the country has made significant progress, with nearly 900 out of 1,123 municipalities now declared mine-free.
But if current security conditions persist, the deadline is likely to pass without the country achieving its goal, said Pablo Parra, director of the United Nations Mine Action Service (UNMAS) in Colombia.
In 2016, when the Revolutionary Armed Forces of Colombia (FARC), the country's largest rebel group, signed a peace deal with the government, Colombia had the second-highest number of landmine victims in the world, surpassed only by
Afghanistan
.
The peace deal aimed to usher in security changes necessary to rid the country of landmines. Conflict zones were opened up to bolster de-mining efforts, and former FARC fighters were ordered to disclose the locations of an unknown number of buried explosives.
In the wake of these efforts, the number of annual victims plummeted from a high of 1,224 in 2006 to 59 in 2017, a record low.
As part of the peace deal, the FARC disbanded, turning from armed conflict to politics. That left a power vacuum in zones where the state failed to step in, with criminal groups fighting for control of the illicit trades abandoned by the FARC.
Landmines have become a tool for these rival groups to challenge one another and assert their claims over drug-trafficking routes, said Leonardo Gonzalez, a researcher at Indepaz, a think tank.
"Armed groups are placing landmines near civilian populations, near roads and paths that civilians as well as other armed groups and army members use," Gonzalez said. "But landmines don't discriminate. Anyone can be a victim."
Last year, Colombia was one of only six countries in the world where non-state armed groups used landmines, according to a Landmine Monitor report. Between January 1 and July 31, 2022, officials documented 232 landmine-related incidents, including casualties and new explosives being discovered.
While the total number of annual landmine victims has remained low compared to pre-peace deal figures, more than 60 percent of victims recorded in the last few years have been civilians.
This represents a significant reversal. Prior to the peace deal, security forces were the main population affected by landmines. The government has attributed the shift to the return of displaced and migrant communities to their homes, now dotted with landmines.
Other experts believe that the trend is a sign of changes in the conflict: Armed groups are engaging less with the army and instead targeting each other. Part of their strategy is to use landmines not only to ambush enemies but also to intimidate civilians and seize control of their land.
"Armed actors do not necessarily have to install thousands of antipersonnel mines to control an area," said Parra, the UNMAS director. "They create an environment of terror. With just one land mine that causes an accident, the community is already terrified and stops using the land."
In some cases, landmines have been placed near farms, schools and roads that lead to hospitals. The fear of injury or death has forced some to flee their homes. Other communities have been forced to restrict residents' movements as a measure to prevent explosions.
As Parra explained, one accident can have larger implications for an entire region.
After a farmer in the predominantly Afro-Colombian region of Choco lost his leg last March in a landmine accident, nearly 6,000 residents of nearby communities limited their movements in self-imposed confinement, out of fear of landmines.
More recently, landmines killed or injured 10 members of the Awa nation in southern Colombia after fighting escalated on November 23, said William Villegas, an Awa leader. Nearly 1,000 have fled since. Those who stayed have refrained from hunting or fishing, forcing their families into dire situations.
"We don't know whether to die of hunger in our homes or to search for food and die from a landmine," said Villegas.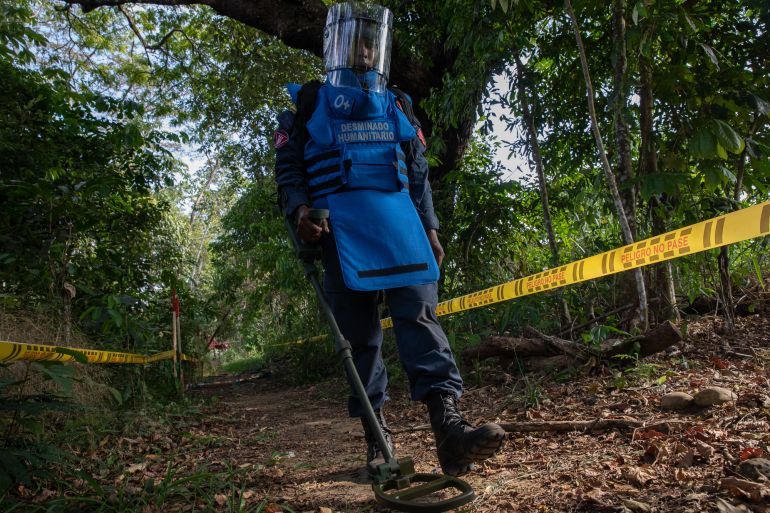 In Colombia's Meta province, a member of an army de-mining mission sweeps the ground with a metal detector, searching for landmines on February 11

According to UNMAS, the human toll of landmines continue to rise. The agency estimates that more than half a million Colombians affected by the presence of landmines will require aid in 2023, an 8 percent increase from 2022 — and a 93 percent increase from 2021.

"What the figures show us is that the number of municipalities in Colombia where accidents have occurred in the last 60, 36 and 12 months have been increasing and that the rural population living in those municipalities are at risk," said Parra.

But the ongoing conflict makes it difficult to remove landmines from these areas. At least 122 municipalities, many located along the Pacific Coast, no longer meet the minimum security requirements for de-mining teams to work, according to official figures.

Meanwhile, some de-mining groups have reported getting death threats via text messages and pamphlets, even in areas deemed safe. In one case last year, a bomb attack on a humanitarian army mission in Meta province left 14 people injured.

In communities that have become inaccessible to de-mining efforts, the government has deployed educators to instruct civilians in blast prevention strategies. But some of the more remote communities say they have yet to receive such training.

Colombian President Gustavo Petro, meanwhile, has announced efforts to quell the violence that has driven landmine use. Under his "Total Peace" strategy, the left-wing leader has promised to negotiate an end to the conflict with the remaining armed groups and offer deals to criminal gangs committed to disbanding.

So far, Colombia has resumed peace talks with the National Liberation Army (ELN), the largest remaining rebel group. It also reached informal ceasefires with four other groups.

The government has attributed some of the landmines planted since the 2016 peace deal to groups interested in the "Total Peace" plan, including the ELN, the Gulf Clan, dissident factions of the FARC and various criminal organisations.

But as Parra pointed out, proper de-mining in conflict zones can only restart once such groups are disbanded and no longer pose a threat, a prospect that remains uncertain.

"That's why the government's policy to dismantle armed groups and the causes that have made the armed conflict permanent in Colombia is so important," said Parra. "When the conflict is resolved, then it will be possible to de-mine all those municipalities that are affected today."