China's trade surplus with the United States was 43.6 per cent larger last month than in January 2017 when Donald Trump was sworn into office, according to the final monthly trade figures released by Beijing before November's US presidential election.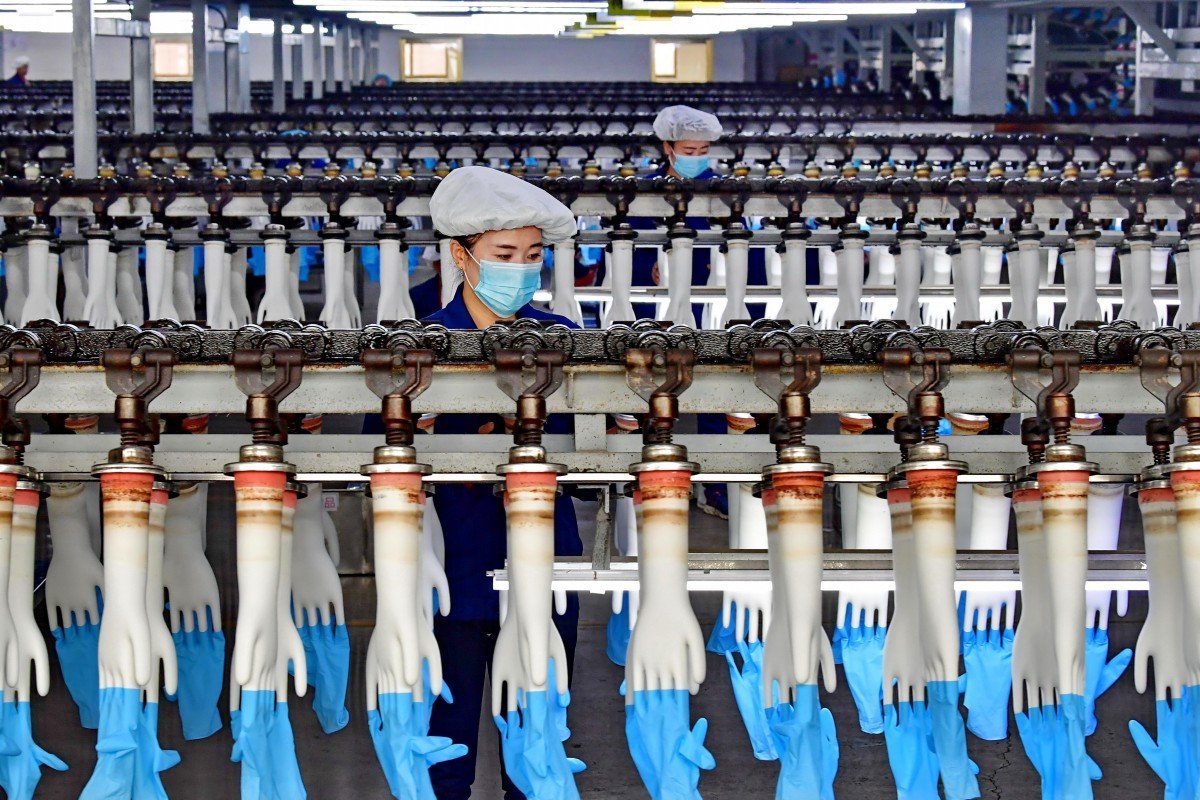 China's exports to the United States, bolstered in part by strong shipments of medical equipment, shot up by 20.36 per cent in September, year on year, to US$43.96 billion.

Trump railed against the US' deficit with China before and after taking office. And this year's much-vaunted phase one trade deal with China, which saw Beijing agree to buy hundreds of billions of dollars worth of American products, was designed to address this.

But the deficit has remained stubbornly hard to narrow, even as China has sped up purchases of politically important American commodities such as soybeans, pork and corn.

China's US imports rose by 24.7 per cent last month to US$13.2 billion – the highest monthly import total since August 2018, one month after the trade war began. The surge came as total imports reached an all-time high of US$203 billion, the customs agency said, suggesting that the worst of China's prolonged consumption slump may be over.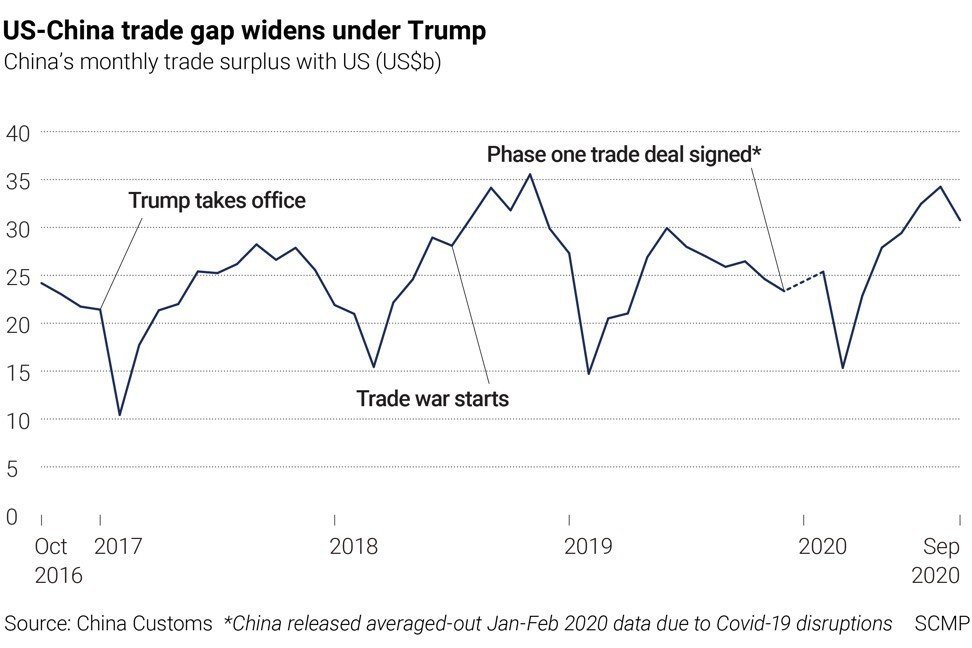 China's grain imports also rose 35 per cent from a year earlier, while inbound meat shipments were up 40.5 per cent. Soybean shipments rose 17.6 per cent compared with September 2019 to US$3.7 billion, with "weekly data suggesting that China's September soybean imports from the US more than tripled in volume from last year", said Betty Wang, senior China economist at ANZ.

Meanwhile, China's exports to the US – bolstered by strong shipments of electrical goods and medical equipment – also shot up by 20.36 per cent to US$43.96 billion.

This meant that the surplus was 18.86 per cent higher than a year earlier, figures released by China's customs agency on Tuesday showed, but analysts said it would have been even higher had Beijing not been trying to meet the terms of the phase one accord. More purchases of soybeans and meat helped bring the gap down after a near-two-year high in August.

"The surge in September's imports from the US increased our convictions in our view that Beijing is making a concerted effort to fulfil its commitments on the phase one trade deal with the US. However, with US-China relations worsening on other fronts, there are significant uncertainties around the phase one trade deal," Nomura analysts wrote in a note.

There were also signs that Chinese buyers went on a shopping spree of hi-tech goods in an effort to protect themselves against future export controls and potential isolation from global technology markets, as the superpower relationship continues to sours.

Tommy Wu, lead analyst at Oxford Economics, said, "Chinese tech companies, notably Huawei, have been buying integrated circuits in recent months. In particular, Huawei needs to stock up on chips by the September 14 deadline, which was set by the US to restrict non-US chip companies from supplying Huawei with products that use US technology."

Hi-tech product imports surged 20.8 per cent year on year in September, powered by a 28 per cent increase in the sales of such circuits.

Nonetheless, it remains to be seen whether the yawning trade deficit will serve as an electoral asset to Trump just three weeks out from an election in which he trails opponent Joe Biden by double digits in many polls.

The beleaguered incumbent took to Twitter on Tuesday to say that if Biden wins the election, "China will own us!!!!" However, Biden's advisers have taken to the press in recent days to use Trump's trade record on China against him.

In an op-ed for The Washington Post this week, Jared Bernstein, an economic adviser to the Biden campaign, wrote that "Trump clearly ran on the trade deficit as a scorecard, saying that his trade policies would 'speedily reduce the deficit', which would drop 'like you've never seen before'."

"Well, the data are in, and Trump's war is lost," he continued.

The coronavirus pandemic has made the structural differences in the US and Chinese trading profiles more apparent, while making the deficit even more difficult to narrow, according to analysts.

Much of China's initial robust trade recovery was powered by relatively low-end manufactured goods such as masks and other forms of personal protective equipment used to fight the virus. Subsequent demand for homeware and electronics soared amid a global work-from-home boom, with many such products made in China.

"Exports rose by 9.9 per cent year on year on the back of continued demand for pandemic-related export products and continued recovery for general consumer products as some economies began to recover," Erin Xin, Greater China analyst at HSBC, wrote in a note.