China's property foreclosures soared this year, as deteriorating job prospects and shrinking income amid the worst economic contraction in decades combined to weigh down on borrowers' repayment ability, putting an end to the country's debt-fuelled real estate rally.

As many as 1.25 million homes were foreclosed in China as of September 16, according to the Taobao e-commerce platform operated by this newspaper's owner Alibaba Group Holding, compared to 300,000 in 2019 and 180,000 foreclosures put on the platform in 2017.

Nowhere is the problem more serious than in Guangzhou, the provincial capital of Guangdong and home of the autonomous driving unicorn Pony.ai and Procter & Gamble's Greater China head office. As many as 33,000 foreclosures were reported in a city whose economy shrank 2.7 per cent last year, more than the national average of 1.6 per cent.

Lisa Fan, a Guangzhou-based lawyer who specialises in bank notices for debt-collection, has seen plenty of these cases. A woman recently approached Fan for help when her beauty salon was forced to be sold after half a year of coronavirus lockdowns emptied her clientele.


"She owed 4 million yuan (US$592,000) and needed to pay 20,000 yuan each month," Fan said. "However, she had no income in the first half due to the social-distancing measures to contain the coronavirus outbreak."

Property foreclosures create a downward spiral effect, as homes on record as collateral for loans tend to be avoided in the second-hand market for fear of containing hidden liens, until they can be proven to be fully discharged.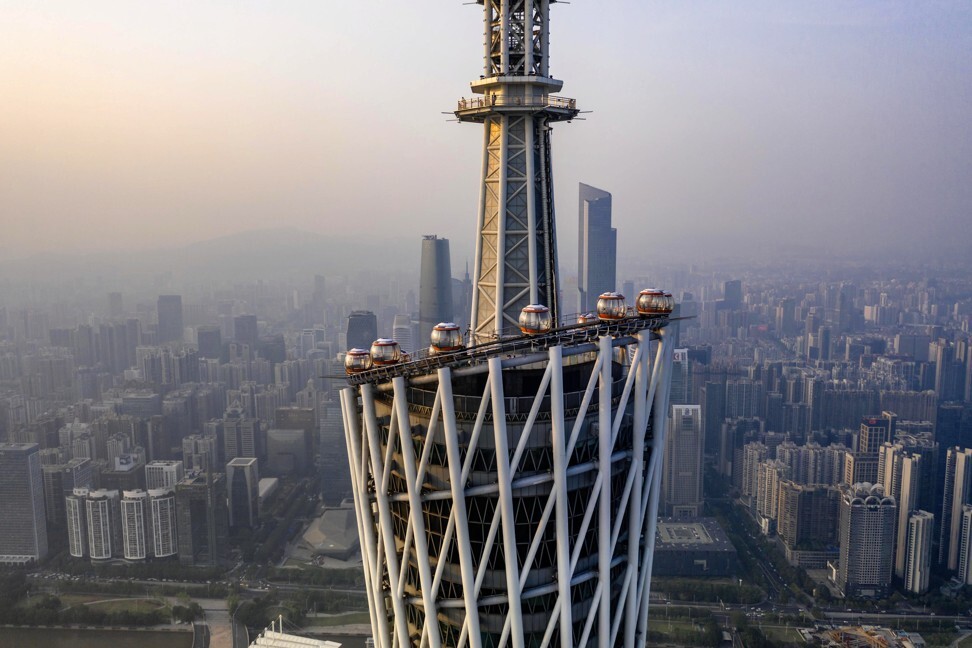 An aerial view of the Guangzhou Financial Centre (rear) with the Canton Tower (foreground) in Guangzhou on 16 April 2020.

"Buyers worry that their property may be involved in complicated legal procedures and will dodge such cases even if prices have been slashed by 10 per cent to 20 per cent,'" said Midland Realty's research director Fion He.

A reason for the increasing spate of defaults is the increasing propensity for property buyers to resort to using loans and leverage to finance their purchases, as ever escalating real estate prices put homes beyond the reach of average households. In Shenzhen, home of such Chinese technology giants as DJI, Huawei Technology and Tencent Holdings, the median home price has risen 14.6 per cent so far this year, following last year's 15-per cent increase, according to data by Lianjia.

When their salaried incomes or businesses suffer, their ability to repay comes under pressure. More sellers are approaching the property agent for urgent sales of their homes because their salaries had been cut, or because they've lost their jobs or businesses, Midland's He said. Many of them are hoping to cash in on their assets before they fall into default on their mortgage payments, she said.

Some buyers borrow their down payment from one bank through either a consumer loan or personal credit, and obtain their mortgage loans from another bank.

"During the good times, their homes can appreciate in just a couple months, and they then can borrow more money from banks - more than enough to payback what they borrowed for down payments and also can get more for other investments," He said. "But when black swan events like the [Covid-19] pandemic hit, they just cannot survive for even a couple months. It is a fact that the macroeconomic environment is not good and every individual has been hit."

Banks usually allow a delay of payments for three months and taking consideration of the pandemic outbreak, banks usually can extend the mercy period to six months, said Zach Zhao who works in a state-owned bank in Tianjin.

"There is a dramatic surge of payment delay, and even defaults, of personal loan payment, including credit cards and consumption loans, as people are losing their jobs. But defaults in mortgages are usually the last step as no one wants to lose their homes," said Zhao, declining to disclose the bank he works for.

A report by Renmin University at the end of June also suggested 80 million service sector employees and 20 million manufacturing jobs had also been affected by the outbreak. Some 30 million small and medium-sized enterprises and 70 million self-employed workers are also under pressure, the report said.

"We may see a boom of mortgage payment defaults after September as many of those are still in the mercy period," said Fan, the Guangzhou lawyer.