Chelsea's hierarchy are continuing to stick by Graham Potter despite the club's defeat to Southampton on Saturday.
Chelsea have registered just one win in their last 10 games and delivered another dismal display at Stamford Bridge as James Ward-Prowse's first-half free-kick sealed a 1-0 victory for Southampton, who sit bottom of the Premier League.

The defeat leaves Chelsea 10th in the Premier League and 10 points behind fourth-placed Newcastle United.

Chelsea were booed off the pitch at the full-time whistle at Stamford Bridge, with groups of supporters voicing their frustration at the team's current performances.
But despite the latest setback, The Telegraph's Matt Law reports that there is no change in Chelsea's position as the club's board are still backing Potter to turn things around.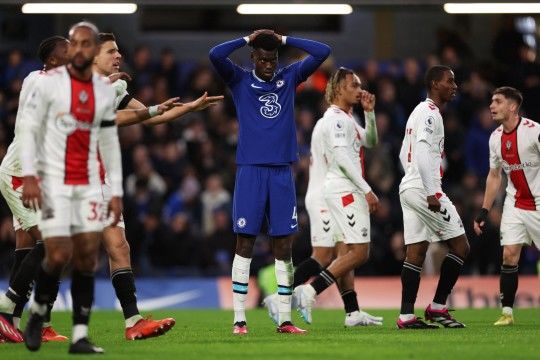 Chelsea have registered just one win in their last 10 games
Potter, meanwhile, described Chelsea's performance against Southampton as 'a step back' following their defeat to Borussia Dortmund in the Champions League earlier this week.
'After a 1-0 defeat at home, any criticism you get is understandable,' said the Chelsea manager.
'I think we've had a tough period and I think we've had lots of challenges in terms of integrating young players into the Premier League. While results don't go your way it can be tough, that is how it is.
'I'm sure there will be people out there that think I'm the problem, absolutely. I don't think they're right but I'm not arrogant enough to say their opinion isn't worth articulating.
'My job is to help the team, keep working through a team period, we've had to make some changes today and the truth is we took a step back in our performance in the first half. The response in the second half was good, but it wasn't good enough.'