Charlie Elphicke was handed a two year sentence in September 2020 after being found guilty of three counts of sexual assault following a trial.

The former Tory MP was released after one year, but still owed the money towards the costs of the prosecution.

He told Uxbridge Magistrates' Court he was unemployed and making a Universal Credit claim.

"I find myself in a very difficult and embarrassed position," he told magistrates, after being summoned to attend the court on Friday for the non-payment.

"I have no job. I have no career. I am long-term unemployed."

The former Government whip, who is on licence until next year, offered to repay his debt at £1 per month, but this was not accepted by the court.

The court heard Elphicke received £51,000 from the sale of his marital home, but most of the money had been used "in legal fees and to pay rent".

He said he had paid six months' rent up front for a one-bedroom flat, valued online at nearly £475,000, in Fulham, south west London, adding: "That is why I have very limited cash to meet my living expenses."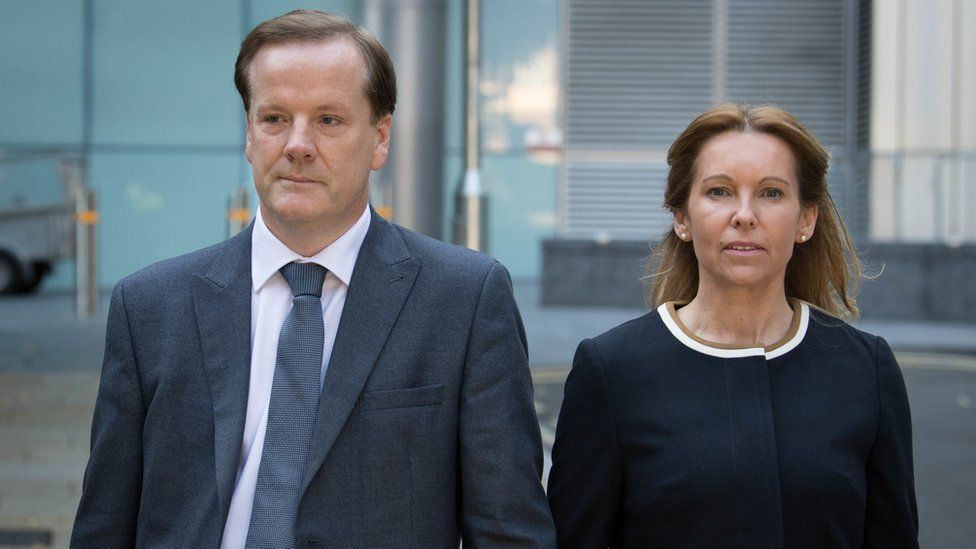 Charlie Elphicke's wife Natalie, the MP for Dover, supported him during the trial

Elphicke's claim for Universal Credit is being processed, and he told the court he had worked with the Step Change debt charity to assess his financial situation.

He said he was working with the job centre and a probation officer to find a new career and must find somewhere else to live after separating with his wife Natalie Elphicke, the current MP for Dover.

Magistrates agreed to adjourn the case to 17 December, allowing time for Elphicke's benefits claim to be assessed before a payment order is made.

In March, he lost a Court of Appeal challenge against his jail term after his lawyers argued the sentence was too long and should have been suspended.

Mrs Justice Whipple, Elphicke's sentencing judge, described him as a "sexual predator" who used his "success and respectability as a cover" and told a "pack of lies".

During his trial, jurors heard how he had asked one of his victims about bondage and sex, then kissed her and groped her breast before chasing her around his home, chanting: "I'm a naughty Tory."