Lam reveals new roles after keeping low profile since she left chief executive's post last July.
Hong Kong's former leader Carrie Lam Cheng Yuet-ngor has taken up a string of positions after keeping a low profile since she stepped down last July, it was announced on Friday.

Lam has accepted an honorary position as president of the Hong Kong Chamber of Commerce in Jiangsu, an eastern province of mainland China.

She has also joined a Hong Kong women's organisation as well as a traditional clansmen association and promised to use the roles to promote the city.

"She will discharge the role of a former chief executive in promoting Hong Kong in such positions," Lam's office said.

The Jiangsu role was revealed after Lam attended an investment promotion organised by Nanjing's government in Hong Kong on Wednesday, where she spoke alongside Nanjing mayor Chen Zhichang and city business leaders.

Lam's office said she took up the new post with the chamber in August last year, about a month after she stepped down as chief executive.
The chamber is presided over by Shi Weibin, the founder of a Hong Kong-listed company Freetech Technology.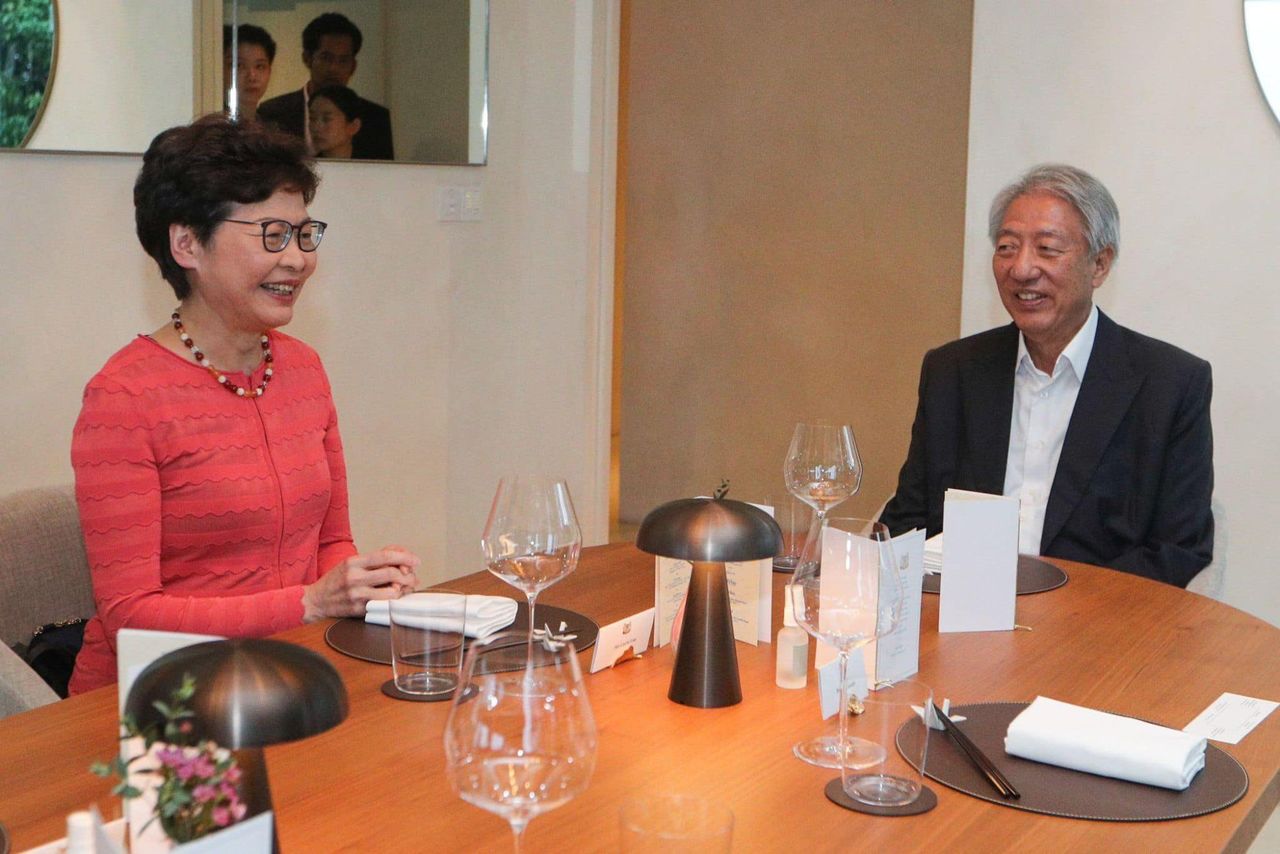 Carrie Lam with Teo Chee Hean, a Singapore government minister discuss ways the two places can work together.
Lam has kept a low profile since she left the chief executive's post and has made few public appearances.
She was also absent from the new list of national members to the Chinese People's Political Consultative Conference, although two out of her three predecessors were appointed as vice-chairmen of the top advisory body.
Lam's office on Friday added she had also informed the government of her appointment as life honorary president of the Zhoushan Residents' Association (HK) as well as life honorary patron of the Hong Kong Federation of Women.
She earlier visited Singapore and met Prime Minister Lee Hsien Loong, an update posted on February 1 to the social media page of Singapore minister Teo Chee Hean said.
Teo added he and Lam had discussed cooperation on sustainability, urban development and education over dinner.