Lesley Griffiths said the trade deal between the UK and European Union had a "catastrophic impact" on the sector.

Ms Griffiths has now urged UK ministers to release urgent funds to help businesses and warned future trade was at stake.

The UK government has been asked to comment.

The call for funds comes after family-run shellfish businesses, along with fishermen and women spoke of losing trade after lorries containing produce were held up at ports.

One business owner who sends shellfish from Pembrokeshire to Spanish customers every week said she had lost £50,000 after a lorry was delayed at Portsmouth port.

Until 1 January, when the new trading deal came into effect, 90% of Welsh shellfish was exported to the EU - but the industry relies on being able to export to the continent as quickly as possible to keep the produce alive.
The Welsh shellfish industry is worth an estimated £13.3m, while the mussel industry injects £10.7m into the Welsh economy on top.

There were around 564 regular fishers and 287 part timers, according to a 2017 study by the trade organisation Seafish.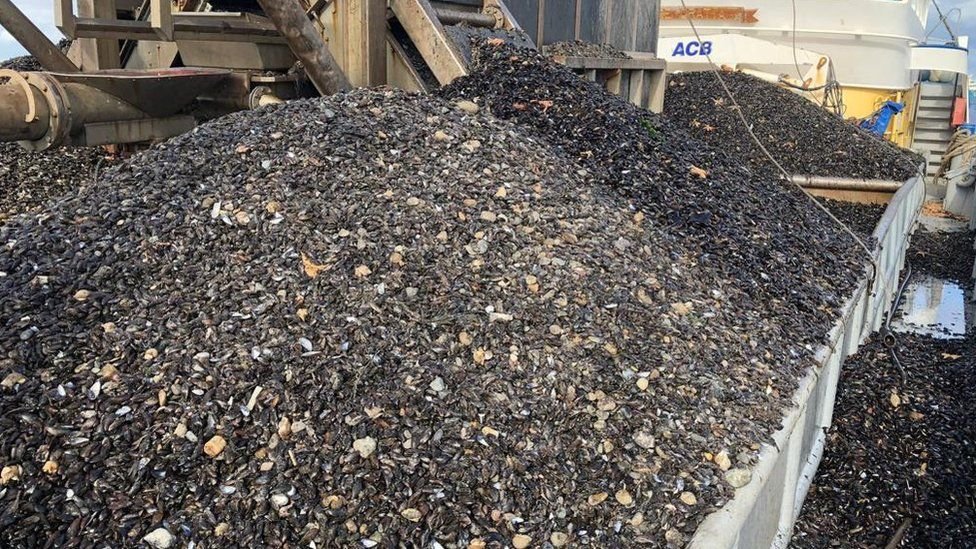 "Despite best efforts to prepare businesses, the uncertainty driven by the last minute relationship negotiated by the UK government is having a catastrophic impact on the Welsh seafood sector," she wrote.

Ms Griffiths said the situation had deteriorated rapidly since the end of the transition period, and exporters were having problems getting their products to customers in Europe, with some fresh and live produce being "stranded or delayed".

"A number of orders went unfulfilled with high value products being spoiled, which has resulted in poor market prices due to lack of demand," she said.

"The issue of product quality being diminished is putting future trade at risk and consequently a number of Welsh vessels have taken the difficult decision not to leave port."

'The urgency is clear'

Ms Griffiths said figures from the Department for Environment, Food and Rural Affairs (Defra) showed landings of Welsh produce were down between 72% and 98% on 14 January, compared to in 2019.

She warned the delays may lead to customers switching to other suppliers, cutting off a "lifeline for the industry" when hospitality businesses remain closed due to the coronavirus pandemic.

Ms Griffiths said a refusal to extend the transition period had resulted in "insufficient time" and even those who had put policies in place had faced delays". "The UK government must take responsibility for the failures of these systems processes and the impact they are having on traders from across the UK. The urgency is clear and action is required now," she wrote.

Defra had previously said it was in close contact with the fishing industry to understand and address any issues they were experiencing.