Maroš Šefčovič was talking after a meeting in London with Lord Frost.

Mr Šefčovič said he was hopeful the two sides could make progress on the supply of medicines next week.

Meanwhile, Lord Frost said there were still "significant gaps" to be bridged between the bloc and the UK, and that talks would be "intensified".

The protocol is the part of the Brexit deal which leaves Northern Ireland in the EU's single market for goods.

That means that goods can flow freely between the Republic of Ireland and Northern Ireland, removing the threat of a "hard border".

However, goods arriving into Northern Ireland from the rest of the UK are now subject to checks and control - amounting to what is being referred to as an "Irish Sea border".

The UK wants fundamental changes to the operation and governance of the protocol.
Lord Frost says triggering Article 16 could be the "only option"

The EU has proposed a package of measures which would reduce its practical impact.

Mr Šefčovič said there would still need to be a "reciprocal" move from the UK.

He added: "We need to make serious headway in the course of next week.

"This is particularly important as regards the issue of medicines. I stand by my commitment to do whatever it takes to address this issue in line with what industry tells us."

He said agreement in this area could be a "blueprint" for reaching a wider deal".

In a statement, a UK government spokesperson said the preference "remained to find a consensual way forward", but that Article 16 was a "legitimate safeguard".

"Lord Frost also underlined the need to address the full range of issues the UK had identified in the course of discussions, if a comprehensive and durable solution was to be found that supported the Belfast (Good Friday) Agreement and was in the best interests of Northern Ireland.

"In this context, although talks had so far been conducted in a constructive spirit, Lord Frost underlined that in order to make progress, it was important to bring new energy and impetus to discussions."

The spokesperson said next week's talks would be "intensified".

Democratic Unionist Party (DUP) leader Sir Jeffrey Donaldson said the UK government needed to take "decisive action within weeks".

He added: "It is essential that either the government gets agreement with the EU, and in the absence of such an agreement that it does move to trigger Article 16."

Medicine supply to NI

The protocol means Northern Ireland is still in the EU's pharmaceutical regulatory system.

However it continues to get most of its medicines from Great Britain which is outside the EU's system.

This is creating potential supply complications which have lead some firms in GB to indicate they will stop supplying products to NI.

Nothing has changed so far as a "grace period" means the protocol is not yet being implemented for medicines.

The EU's acknowledges that as it stands the protocol creates too much of a burden in this area and should be changed.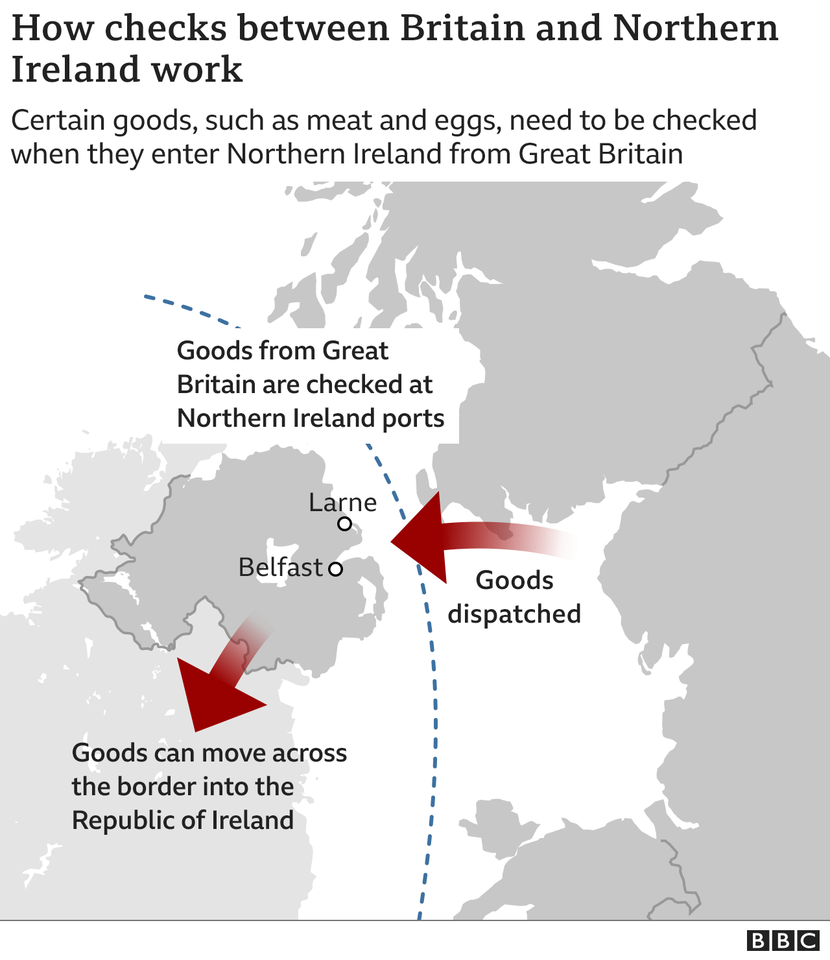 In October it published proposals to tackle the difficulties, which will include changing EU law.

If the protocol is causing serious difficulties either side can unilaterally suspend the relevant parts of it by using the Article 16 safeguards clause.

However, UK ministers have said such a move is not imminent.