Mr Johnson told manager Gareth Southgate and the squad: "You have taken England into the final of a major international competition.

"For most people in this country, it is the first time this has happened in all their lives.

"You have forged a band of brothers whose energy and tenacity and teamwork – and sheer flair – seem to shine in everything you do.

"You have lifted the spirits of the whole country, and tomorrow we know you can lift that trophy too.

"We are not just hoping or praying. We believe in you, Gareth, and your incredible squad.

"On behalf of the entire nation, good luck, have a great game – and bring it home!"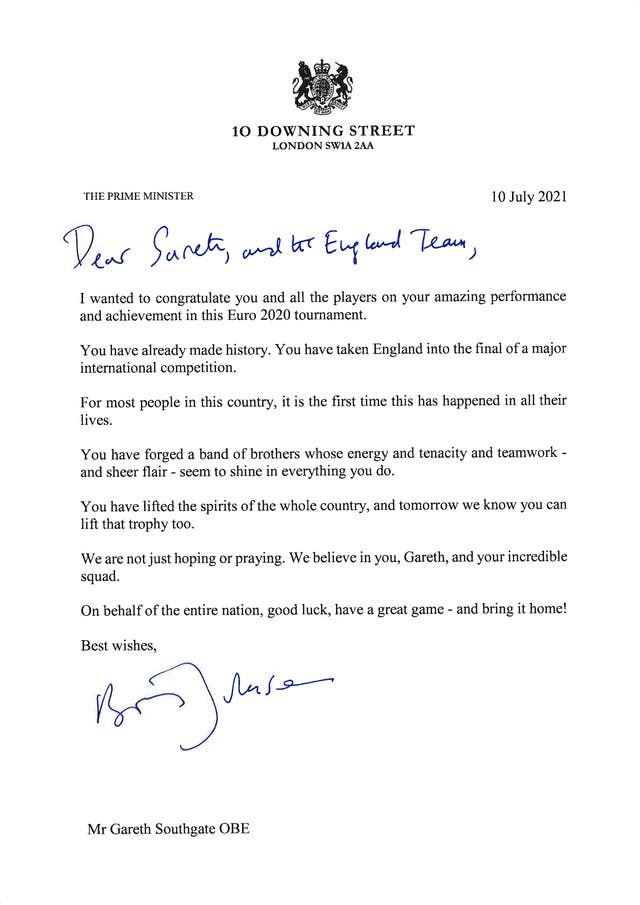 It comes after No 10 Downing Street was decked out in St George's flags ahead of the England football team playing in the Uefa Euro 2020 final on Sunday.

Labour leader Sir Keir Starmer also sent his best wishes to the team saying they had "shown the best of England".

He said: "I want you to know that as you line up at Wembley today, the whole of England will be bursting with pride watching you.

"We still believe. Bring it home."

The Queen also paid tribute to the "spirit, commitment and pride" of the England football team in a good luck message ahead of the Euro 2020 final.

In a note to manager Gareth Southgate, the monarch sent her "good wishes" for Sunday's match against Italy at Wembley Stadium.

Victory would mark the men's football team's first major tournament win since the 1966 World Cup success, also at Wembley.

In her written message to the team, the Queen recalled presenting the Jules Rimet trophy to Bobby Moore almost six decades ago.

She said: "Fifty-five years ago I was fortunate to present the World Cup to Bobby Moore and saw what it meant to the players, management and support staff to reach and win the final of a major international football tournament.

"I want to send my congratulations and that of my family to you all on reaching the final of the European Championships, and send my good wishes for tomorrow with the hope that history will record not only your success but also the spirit, commitment and pride with which you have conducted yourselves."

Fans lined the road and waved flags as they waved the team bus off on Saturday from the England training complex.

A video was tweeted from the official England team account with the message: "Wow… what a send-off! Amazing scenes as the #ThreeLions depart St. George's Park for the final time."

The team under Southgate has been hailed for its social conscience which has seen squad members saluted for taking the knee against racism, making a stand on donating to the NHS, and taking the fight for free school meals to Downing Street.

As the country readies itself for the chance to be crowned champions of Europe, it is predicted England fans will buy millions of pints and withdraw hundreds of million of pounds in cash – and some are even changing the names of their streets to show their backing for the Three Lions.

The British Beer & Pub Association predicts England fans will buy 7.1 million pints on Sunday.

The final is expected to attract a record television audience, with Coral bookmakers saying it is odds-on at 4-5 to be the most-watched programme or broadcast ever in the UK.