Chinese Communist Party mouthpiece the People's Daily on Sunday blasted a Hong Kong court for granting bail to media tycoon Jimmy Lai Chee-ying, warning that the mainland had "sufficient legal grounds" to take over jurisdiction of his national security law case.

The strongly-worded online commentary came just days after the Apple Daily founder – who is facing allegations of fraud and collusion with foreign forces under the Beijing-imposed legislation – was granted bail by a High Court judge, who placed him under house arrest on Wednesday with several restrictions.

In an article headlined "Bail granted to Lai Chee-ying severely hurt Hong Kong's rule of law", the People's Daily said the 73-year-old's case held symbolic significance for the city, and urged the judiciary to "make the right decisions" and punish "insurgents" like him.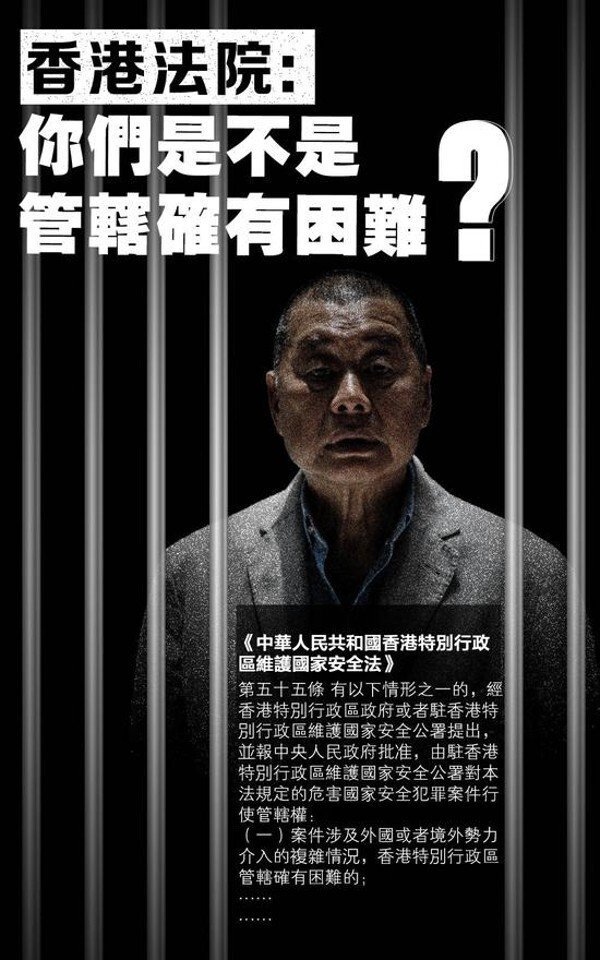 An illustration accompanying a commentary in the People's Daily on Jimmy Lai's bail conditions.

"If the judiciary fails to handle the case impartially and in accordance with the law, it will have severely hurt Hong Kong's rule of law and placed the country's security in an extremely dangerous situation, in turn bringing incalculable negative effects," it said.

The unsigned commentary cited Article 55 of the security law, which allows the central government to assert jurisdiction over certain cases and move defendants to the mainland for trial, saying there were valid grounds for invoking the provision in Lai's case.

The outlet accused Lai of continuing, through "words and deeds", to call on foreign governments to sanction Hong Kong despite the enactment of the security law in June. It also maintained demands to release Lai made by foreign politicians, including US Vice-President Mike Pence and Secretary of State Mike Pompeo, had "confirmed" the allegations of collusion with foreign forces.

"Under these circumstances, many Hong Kong citizens have called on the Office for Safeguarding National Security in Hong Kong to intervene in this case decisively in accordance with the law," it added. "There is sufficient legal basis."

Though Hong Kong has the jurisdiction to try its own national security cases, the law empowers the mainland to step in when "the case is complex due to the involvement of a foreign country or external elements". Since the law's imposition on the city on June 30, Beijing has not formally broached the possibility of interceding in any of the ongoing prosecutions.

Lai, championed by supporters as a democracy advocate, was the first person charged under the new law to be granted bail, though he was ordered by Mr Justice Lee Wan-tang of the High Court to remain at his home and observe a string of terms, including not giving interviews, meeting foreign officials or using social media. He has to return to court on Thursday for a hearing, as prosecutors are still seeking to have him put back behind bars to await trial.

Describing Lai as "notorious and extremely dangerous", the People's Daily said on Sunday that the bail conditions set by the court were "unbelievable" and "completely out of proportion to the possible harm Lai might cause to national security".

The newspaper maintained that rejecting bail should be the norm for cases such as Lai's, as it was necessary to prevent suspects from continuing to endanger national security. It also urged local courts to learn a "bitter lesson" from the case of Tsang Chi-kin, the 19-year-old student who was shot during last year's protests and was facing charges of rioting and assaulting police, and who has since reportedly fled into exile.

"Lai has been an important pawn of some external forces, and has great value on anti-China campaigns. External forces have the motive to facilitate his escape from Hong Kong," the commentary said.

"Who would shoulder responsibility if Lai absconds or continues to wreck Hong Kong while on bail?"