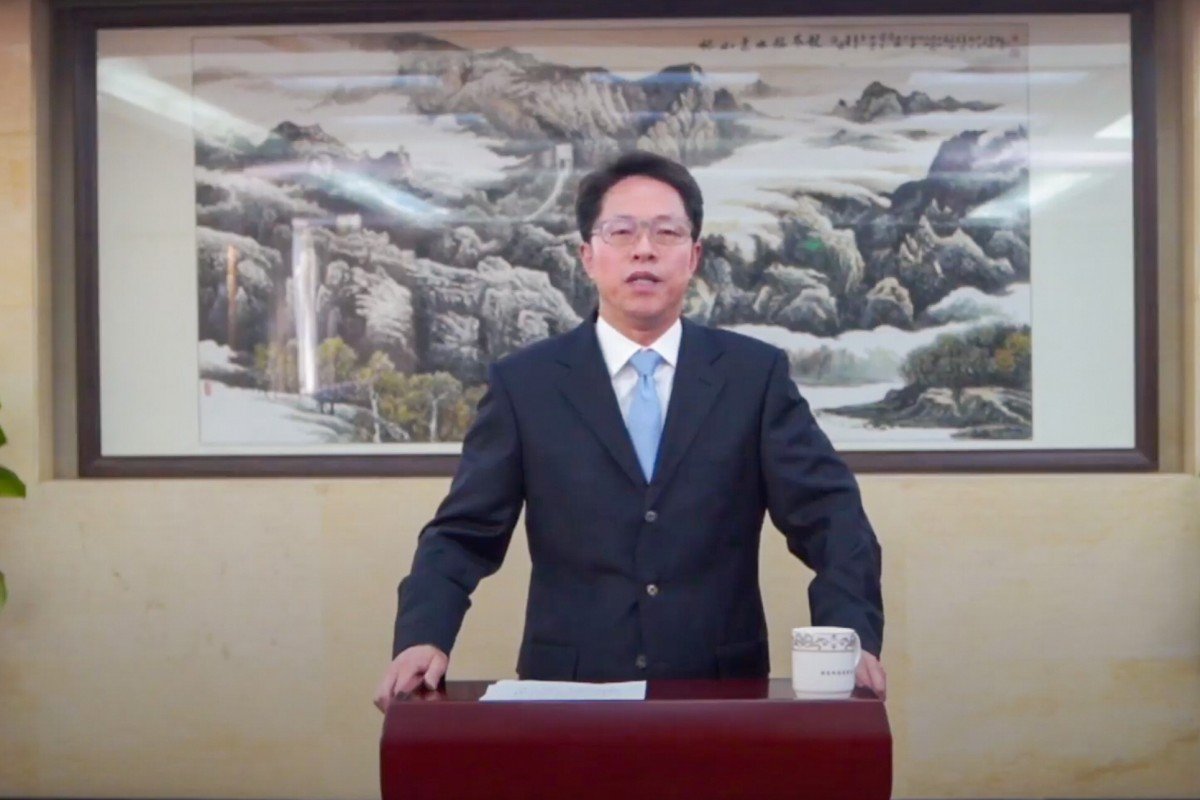 Zhang Xiaoming, deputy director of the State Council's Hong Kong and Macau Affairs Office, addressed the summit via video.
Beijing has called for judicial reform in Hong Kong and made it clear that anti-China activism will no longer be allowed among legislators and officials by law, as a key step to ensuring the patriotism that must underpin the city's political system.

"People who love the country and Hong Kong will govern Hong Kong, and people who are anti-China and cause trouble in Hong Kong are out," Zhang Xiaoming, deputy director of the State Council's Hong Kong and Macau Affairs Office, told the Basic Law 30th Anniversary Legal Summit on Tuesday.

"This is a political rule under 'one country, two systems', and has become a legal requirement now."

The high-powered seminar in Hong Kong, with the theme "Back to Basics", set Beijing's bottom lines for the city, three decades after the promulgation of its mini-constitution and 23 years after its handover to Chinese sovereignty.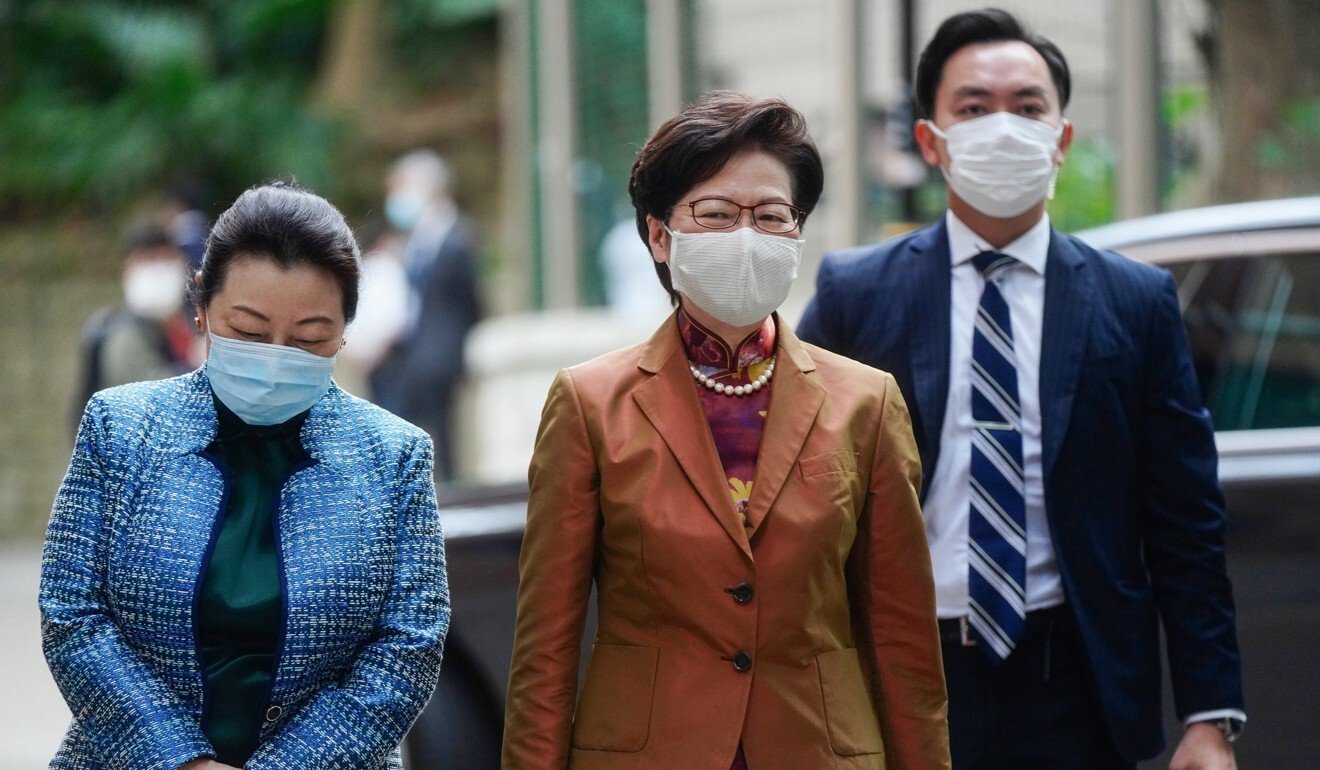 Chief Executive Carrie Lam (centre) and Secretary for Justice Teresa Cheng (left) arrive at the Basic Law 30th Anniversary Legal Summit on Tuesday.

In the first such official input from Beijing about reforming the judiciary in a city that bristles over any perceived threat to judicial independence, Zhang cited the views of former Court of Final Appeal judge Henry Litton.

In September, Litton wrote an opinion piece in the Post saying Beijing had become mistrustful of Hong Kong's judiciary because the courts had "put a slant on the Basic Law, by applying obscure norms and values from overseas which are totally unsuited to Hong Kong's circumstances".

Describing judicial reform as a hot topic for debate in Hong Kong society, Zhang said: "Even Western countries' judicial systems are reformed constantly; this does not affect their judicial independence."

Zhang called for the "one country, two systems" governing formula, under which Hong Kong is allowed a high degree of autonomy, to be implemented comprehensively and accurately. Hong Kong's constitutional systems must be upgraded and misconceptions replaced with the correct principles such as patriotism, he said.

"Hong Kong treasures core values such as democracy, freedom and human rights. But before that, we need to add the term 'patriotism'," he said. "While we must talk of seeking common ground and setting aside differences, we must also insist on bottom lines. The firmer we are on the bottom lines, the bigger the room for political tolerance."

While Hong Kong's high degree of autonomy must be respected, he said, Beijing's "comprehensive jurisdiction" over the city should also be emphasised.

"We must defend the city's rule of law; we must also safeguard the national constitutional order … We must talk about Hong Kong's international competitive advantages, and talk about the firm support offered by the motherland's development," he said.

Zhang blamed a lack of understanding of the city's governing policy for a series of problems, such as the mass protests against the government's ill-fated extradition bill last year.

"The social disturbances seriously damaged 'one country, two systems' … The central and Hong Kong governments, the media, educators and other sectors must learn a lesson, and strengthen their comprehensive and accurate promotion of 'one country, two systems'," he said.

While he put the focus on the city's mini-constitution, Zhang stressed that it was not above flexibility and improvement 23 years into the five decades of "one country, two systems" promised by Beijing.

"We must see the Basic Law as a living law, and amplify its applicability through ways such as legislation and interpretation," he said. "Many problems have now been fully exposed … We must ensure Hong Kong's prosperity and stability in the next 26 years and beyond."

Sources said Zhang was suggesting that the NPCSC was expected to issue more decisions, interpretations or resolutions related to Hong Kong in the future.

Senior counsel Philip Dykes, chairman of the Bar Association, said there was nothing to reform if Zhang shared Litton's concerns that the city's judges were too quick to look at overseas experience to help resolve local cases.

"If judges look to overseas decisions which help throw light on a Hong Kong case, then they are invoking one of the strengths of the common law system, which is that courts can look to other common law jurisdictions for help," he said, referring to the Article 84 of the Basic Law.

Outgoing opposition lawmaker James To Kun-sun of the Democratic Party also raised concerns.

"Beijing has been emphasising its 'comprehensive jurisdiction' over Hong Kong – how will it defend the city's rule of law and judicial independence, which it doesn't understand at all?" said To, one of the 15 opposition politicians who resigned last week in protest against Beijing's disqualification of four of their colleagues.

But pro-establishment lawmaker Priscilla Leung Mei-fun, who also sits on the Basic Law Committee, brushed aside such concerns, saying the judiciary was long overdue for a wide range of reforms.

"That includes legal education and also the recruitment of judges. Do we have sufficient talent familiar with 'one country, two systems' joining the judiciary? How does the judiciary allocate cases to judges? Is the hiring process open enough?" she said.

Her pro-establishment colleague, Holden Chow Ho-ding, was adamant that the city's judicial independence would not be jeopardised with "appropriate" reforms.

"Some judges do not have a proper understanding of our constitutional order under 'one country two systems'; that sort of problem should be addressed," he said.

China's top legislative body, the National People's Congress Standing Committee, approved a resolution last Wednesday requiring the removal of four lawmakers found to have violated their oath of allegiance or endangered national security.

The decision allowed local authorities to disqualify the lawmakers who were earlier barred by electoral officials from running in the now-postponed Legislative Council elections originally scheduled for September this year. The remaining 15 opposition lawmakers also quit in a show of defiance.

Zhang said that he noticed that critics had made "misleading remarks" about the standing committee's decision, just as they had done in the past.

"In Hong Kong, there were sayings such as 'the standing committee's decision interfered with Hong Kong's high degree of autonomy', 'asking civil servants to take an oath was to violate their political neutrality', and 'national education is brainwashing'," he said.

"These comments show the lack of a comprehensive and accurate understanding of 'one country, two systems', or are a deliberate effort to mislead the public."

Zhang argued that while critics had accused Beijing of extinguishing Hong Kong autonomy, history would prove them wrong.

"Some clichés have been repeated recently; people said that [last Wednesday was Hong Kong's] 'darkest day' and that 'one country, two systems and the rule of law are dead'," he said.

"We have heard this many times. Let these curses become the historical record of how some people slapped their own faces, and let these noises become the background music as Hong Kong starts anew amid changes."

Hong Kong leader Carrie Lam Cheng Yuet-ngor told the summit it was legitimate for her to seek help from Beijing to clarify whether lawmakers should be disqualified after being barred from seeking re-election.

She cited late paramount leader Deng Xiaoping's declaration in 1984 that patriots must form the main body of the city's administrators after the 1997 handover.

"A patriot is one who respects the Chinese nation, sincerely supports the motherland's resumption of sovereignty over Hong Kong, and wishes not to impair Hong Kong's prosperity and stability," she quoted Deng as saying.