At least 16 people have died and dozens are hurt after almost 50 vehicles were involved in a huge motorway pile-up.
Devastating images from the scene showed smoke billowing into the sky from several trucks on fire in the wake of multiple crashes which happened within 10 minutes on Saturday evening.

Seven people were killed in a single collision on the highway in Changsha, the capital of China's south-central Hunan province.

More than 180 rescue workers were deployed to the scene, according to reports in Chinese state media.

A total of 66 people have so far been reported injured, authorities said on Sunday.

Eight people suffered 'relatively severe' injuries, but are currently stable, a traffic police spokesperson said, adding: 'Those injured were promptly sent to hospital for thorough treatment.'
China's emergency management ministry has called for an investigation into the cause of the tragedy.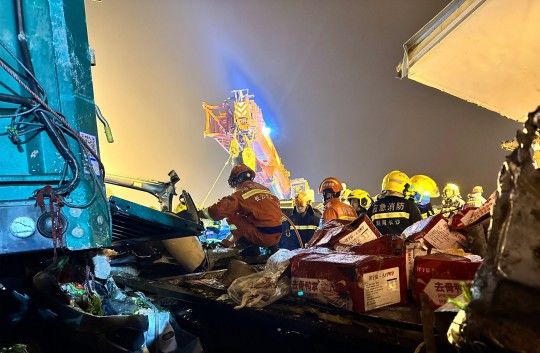 More than 180 rescue workers were deployed to the scene in China's Hunan province
In the UK, 20 people were hurt after a 14-car pile-up on the M40 in Buckinghamshire in October 2020.
Last month, two people died and 12 people were hurt after a crash involving eight vehicles on the same motorway, close to the same junction.