The Hong Kong men turned in a dominant performance against their larger Chinese opponents to win 24-0 in Dubai in their Asia Rugby Sevens Series semi-final and qualify for September's Rugby World Cup Sevens in South Africa.

Two years after the disappointment of losing to South Korea in a crucial Olympic qualifier, Hong Kong showed superior tactical and individual skills to shut down the mainland's big men and seal their place in the 24-team World Cup finals. The South Koreans stunned Japan in the other semi-final, 21-14, to join Hong Kong in South Africa.

After China dominated possession in the early minutes, Hong Kong broke away with Max Denmark scoring under the post after four minutes.

Seconds before the interval, Denmark flew down the outside after collecting the ball at the halfway line to give Hong Kong their second try and a 12-0 lead.

China came to Dubai on a chartered flight with one of the biggest teams in the competition, physically. However, the relatively smaller Hong Kong players were fierce in the tackle and never allowed their opponents to find a way through.

Hong Kong scored their third try when a Liam Herbert offload helped Russell Webb steam down the middle to score under the posts with Harry Sayers also touching down.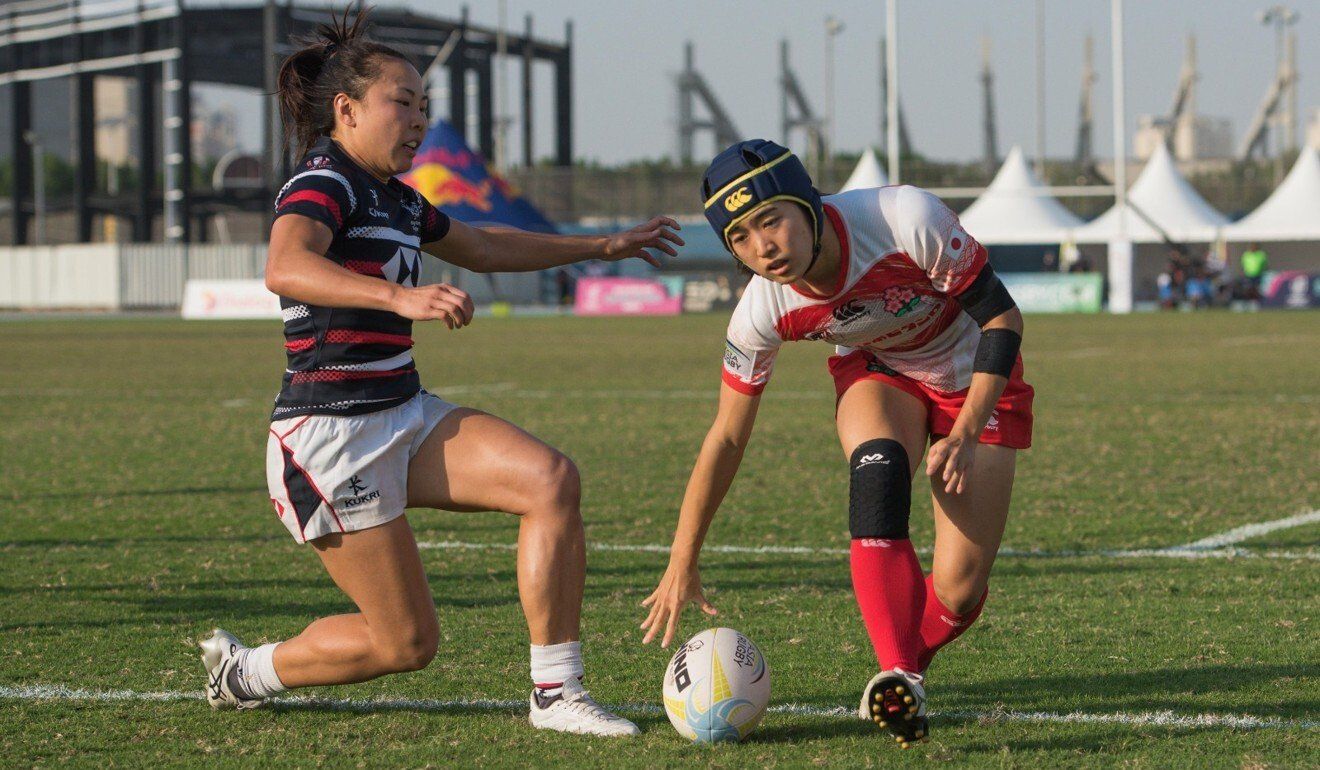 Japan score against Hong Kong in the Asia Rugby Sevens Series women's semi-final in Dubai.

The Hong Kong women's team were beaten 24-0 by Japan in their semi-finals. Japan were to meet China in the final, with both teams advancing to September's World Cup final in South Africa. China scored a hard-fought 24-19 victory over Kazakhstan in their semi-final to seal a place in the 16-team finals.

After finishing second to China in Pool B, Hong Kong needed a victory over Japan to ensure a place in the South Africa finals, but they were unable to break down a strong Japanese defence in their last-four clash.

Japan scored two unconverted tries in the first half and added three more after the break, Chiaki Saegusa's early strike early in the second half effectively ending Hong Kong's challenge.

Saegusa and Honoka Tsustumi scored two tries each and Tomomi Kozasa touched down once to make sure they will line up alongside 15 other women's teams at the Rugby World Cup Sevens finals in September.

Hong Kong started off confidently, holding on to the ball after kick-off and playing a number of phases with Natasha Olson-Thorne stopped several metres from the line. She managed to maintain possession but Japan stole the ball from a wayward pass and opened the scoring.

Hong Kong finished second in Pool B after losing 22-5 to China and then beating Malaysia 54-5 and Sri Lanka 29-5. Japan won Pool A with wins over Kazakhstan, Thailand and the Philippines.

Wang Wanyu had two tries for China against Kazakhstan with Chen Keyi and Yan Meiling also crossing while Nigora Nurmatova, Balzhan Koishybayeva and Galina Krassavina touched down for the Kazakhs, who, despite scoring first, were mostly chasing the game and never looked like they would create an upset.