Property-market insiders see positive signs following the reopening of the border, especially in luxury developments, but a full recovery is expected to take months amid high interest rates.
Hong Kong property-market insiders see signs of mainland China residents returning to the housing market after the reopening of the border, although a full recovery is expected to take months amid high interest rates.

Mainlanders have started to buy homes in Hong Kong again, with interest concentrated in luxury properties so far, Victor Tin, executive director at Sino Land, told the Post.

"Luxury homes are seeing an earlier kick-off," Tin said. "Later when the border reopening is further relaxed, there may be even more mainland buyers coming, boosting other kinds of properties."
For example, mainlanders bought three of the six flats sold at St George's Mansions in Ho Man Tin, a luxury project jointly developed by Sino and CLP Group, in the first 10 days of this year, Tin said. The three flats sold for around HK$300 million (US$38.41 million).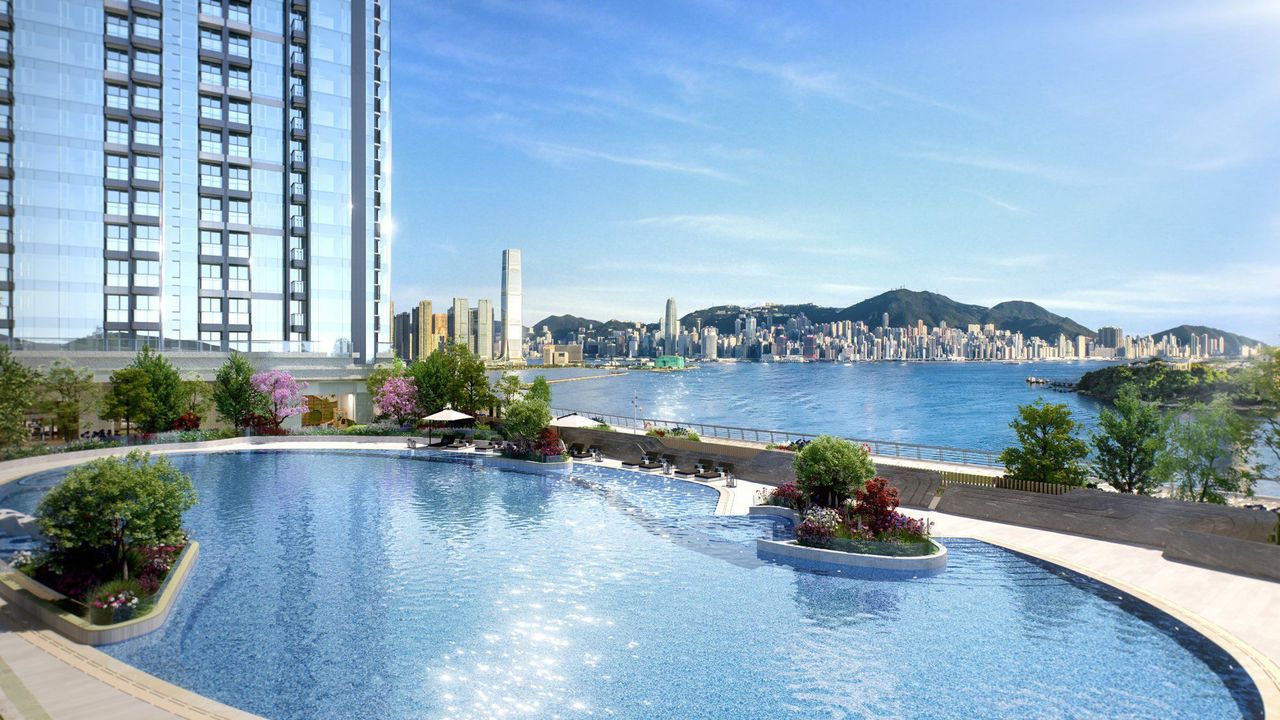 A promotional image of the Grand Victoria luxury waterfront development.
In west Kowloon, a mainland buyer forked out HK$166 million for eight flats at Grand Victoria on January 12, Tin said. Sino and three other companies developed the project.
In the pre-pandemic year of 2019, buyers with mainland China backgrounds accounted for 8.4 per cent of total home sales in Hong Kong, according to Midland Realty. Buying by mainland Chinese peaked in 2011 at 11 per cent of all homes, or 30.2 per cent of new homes.
Annual transactions by buyers who were not Hong Kong permanent residents or companies fell by about 76 per cent during the pandemic, according to Inland Revenue Department statistics cited by Midland Realty.
This is based on the number of cases liable to pay the Buyer's Stamp Duty, which only applies to such buyers. There were 2,311 such transactions from 2020 to November 2022, or about 770 deals per year. In contrast, there were 9,484 such deals from 2017 to 2019, or about 3,160 deals per year.
In other words, the border closure cost the market about 2,400 deals a year, or 7,200 deals over three years, Midland said.
Now, developers and agents hope buyers from across the border will give the market a shot in the arm after total residential transactions in 2022 plummeted 39.4 per cent year on year to 45,050, the lowest level since record-keeping began in 1997, according to the Land Registry.
Yet industry watchers also know recovery will take time.
"Although border reopening is a really strong medicine to cure the weak market sentiment and impaired market conditions, Hong Kong's been like a sick person for more than three years," said Tony Wan, director of sales and marketing for Hong Kong Properties at K Wah International.
Wan said the importance of border reopening is more about stimulating cross-border economic activity and improving the economy, after which people will be more interested in buying homes.
The city needs to do more to strengthen economic health, including the measures outlined in Chief Executive John Lee Ka-chiu's Policy Address to attract talent, investors, investment capital and technology to Hong Kong, Wan said. "It takes time to recover," he added. "There's no miracle."
One positive sign in the property market at the moment is buying by Hongkongers who recently acquired permanent residency. Mortgage applications by this group accounted for 11.4 per cent of those handled by mReferral Mortgage Brokerage Services in the fourth quarter, the highest since records started in 2018.
The government's Quality Migrant Admission Scheme seeks to attract highly skilled or talented people to settle in Hong Kong to enhance the city's economic competitiveness. While the policy has seen a surge in inquiries, it is unclear to what extent immigration by mainland Chinese people will help the property market.

"Some mainlanders are still interested in investment or relocating to Hong Kong as it is a window of China to the rest of the world, especially with the lure of the Quality Migrant Admission Scheme," said Andy Lee, CEO of Centaline Property Agency for China. "They may come and buy a home afterwards."

However, a boom in the short term is unlikely because of the high cost of home purchases and capital transfer, Lee added.

"Neither I nor my family has any plan to buy a home in Hong Kong," said Effy Chen, 26, an online fashion influencer who is based in Guangzhou and has family businesses in several major cities in China.

"The reasons are straightforward. It is not comfortable for living. Homes in Hong Kong are expensive but the space is too small compared with other big cities in the mainland. It is also not a good choice to pour your money into the real estate sector rather than other sectors amid a gloomy market."

While the reopening of the China-Hong Kong border is expected to stimulate the Hong Kong economy, rising interest rates will continue to cast a shadow over the mass residential market, according to Dorothy Chow, executive director for valuation and advisory services at Colliers Asia.

"As the economy revives, positive factors in boosting residential prices including stock-market performance, increasing household income and restored investor confidence will hopefully bring the residential market back on the recovery track," she said. "Whilst further interest rate hikes will continue to weigh on home prices, we foresee an overall 5 to 10 per cent year-on-year downward adjustment in 2023."